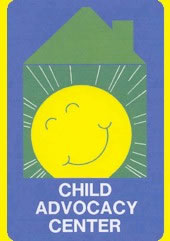 1351 Springhill
Mobile, AL 36604
(251) 432-1101
---
Helping to change the world...one child at a time.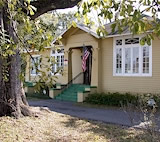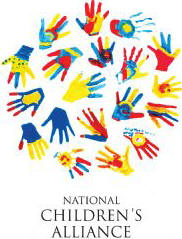 Accredited Member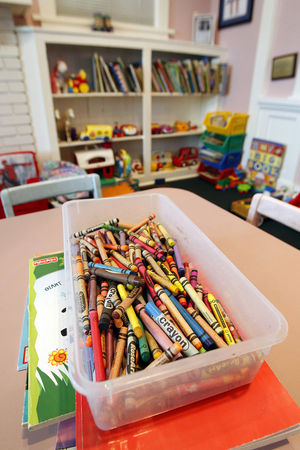 The mission of the Child Advocacy Center (CAC) is to be the Mobile community response to the problem of child abuse. Abused children are interviewed here by a specialized, trained team of professionals. Children and their non-offending family members are referred for counseling and prepared for the criminal justice process. Also provided are educational and training programs in child abuse awareness and prevention.

Our goal is to provide a wide range of services in one central location to sexually abused and/or severely physically abused children and their non-offending family members so that they may begin their healing process, and to provide education and training in order to increase the public awareness of child abuse which will aid in the prevention of child abuse.

Child Advocacy Center June 20, 2013

The non-profit Child Advocacy Center opened its doors March 1, 1988, to aid victims of child abuse. Crayons, coloring books and toys greet young clients at the facility June 20, 2013, in Mobile, Ala. Read the Article...



In the friendly, comfortable environment of the Child Advocacy Center, there are 28 professionals from 7 different agencies working together as a team so that these young victims of crime can come to one central location and receive all of the help and services they might need. Law enforcement officers from the Mobile Police Department, Prichard Police Department, and the Mobile County Sheriff's Office work together with child abuse investigators from the Department of Human Resources to investigate reports of child abuse. They conduct joint interviews with victims, family members, and witnesses in the field as well as in specially designed rooms for different aged children here at the CAC. A Forensic Medical Doctor conducts examinations at the University of South Alabama's Children's Medical Center Outpatient Clinic to secure evidence. The Assistant District Attorney, Trial Coordinator, and Victim Witness Advocates provide the victim and families with court preparation and prosecution services. Therapists and a Family Advocate work at the CAC to provide extended assessments, individual, group and family counseling as well as a mothers' support group and a wide range of services for families.


FIRST ANNUAL CAJUN COOK-OFF - BUY TICKETS ONLINE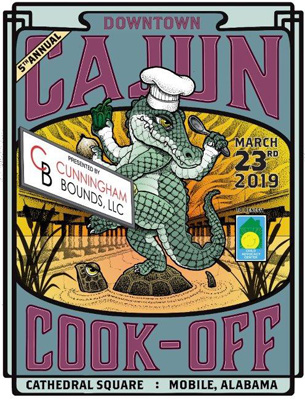 Cajun Food and Music take over Cathedral Square this March Presented by Cunningham Bounds, LLC

Mobile, AL –Gumbo, Etouffee, crawfish pies, boudin balls, jambalaya, crawfish bisque and maque choux. Be eager to discover the pleasures of the Cajun-Creole cooking in Mobile. The Child Advocacy Center is excited to announce the First Downtown Cajun Cook-Off Presented by Cunningham Bounds, LLC on Saturday, March 21 from 10:00 a.m. - 2:00 p.m. in Cathedral Square. Sample your favorite dishes from 22 local teams of downtown's favorite restaurants.
Tickets will be available for $10 in advance at the Child Advocacy Center (1351 Springhill Ave.), Mellow Mushroom locations (the Loop & West Mobile) and both locations of BugMaster( West Mobile & Daphne). Tickets will be available at the gate for $15 the day of the event. Click here for more details...or here to BUY TICKETS ONLINE.(NO PAY-PAL OR WILL-CALL AFTER NOON ON FRIDAY MARCH 20)
---
CUISINE FOR KIDS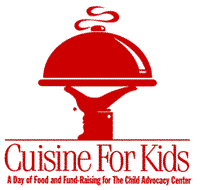 Cuisine for Kids event continues to grow to help fund services at the CAC! This year's event includes many area restaurants. Participating restaurants generously agreed to donate a portion of their proceeds from Tuesday, January 27th. The CAC thanks Austin Key and Brad Israel, CAC Board Members, who co-chaired the event. This year's title sponsor is Coastal Bank and Trust and other major sponsors, Budweiser-Busch Distributing Company, WKSJ Radio, and Al.com Press- Register who all help make the event a great success. A special thanks to these generous eating establishments: Atlanta Bread Company, Baumhower's Wings Mobile, Baumhower's Wings Daphne, Beef O Brady's (Halls Mill Rd.) Buck's Pizza, Buffalo Wild Wings, Bumpers Billiards, Butch Cassidy's Café, 219, Callaghan's Irish Social Club, Cammie's Old Dutch Ice Cream Shoppe, Chicken Salad Chick, Fire House Subs (Grelot, 3694 Airport,6808 Airport Blvd., 5300-C Halls Mill Rd.), Five Guys (Old Shell), Hickory Pit Too, Island Wing Company, Jimmy Johns (DuRhu , Airport, & Royal St.), Lap's Grocery & Grill, LODA Bier Garten, LuLu's at Homeport Marina, Mirko Pasta, Moe's Original Bar B Que, Montego's Caribbean Café & Bar, Pita Pit, Regina's Kitchen, Roly Poly (Dauphin & Hillcrest), Saucy Q Bar B Q, Serda's Coffee Company, The Blind Mule, Touch down Tavern, The Hungry Owl, Tropical Smoothie Café, (DuRhu),Via Emilia. Dine Out and help our children.
Click here for more details...